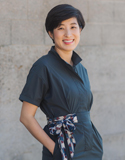 Dr. Yewon Lee is an accomplished conductor and pianist, boasting a wealth of experience throughout Southern California and beyond. With performances spanning the United States, France, Italy, Japan, South Korea, and Israel, Dr. Lee's reputation as a highly sought-after artist has been widely recognized. 
Prior to her relocation to San Diego, Dr. Lee served as an Assistant Music Director of Opera at Baldwin Wallace University and Adjunct Professor at Kent State University. Throughout her career, Dr. Lee has collaborated with notable organizations including Baldwin Wallace Opera Theater, the National Opera Center in New York City, the Aspen Opera Theater Center, and the International Vocal Arts Institute. Her contributions to the academic community have also led to frequent invitations as a guest performer and lecturer at San Diego State University and University of San Diego and recently she was invited to conduct the San Diego Unified School District Honor Choir, further highlighting her expertise and contributions to the world of music.
Born in Seoul, South Korea, Dr. Lee received a Bachelor of Music degree in Piano Performance from Seoul National University, a Master of Music degree in Vocal Accompanying from Manhattan School of Music, and an Artist Diploma in Collaborative Piano from the prestigious Juilliard School. Most recently, she earned her Doctor of Musical Arts degree in Choral Music from the University of Southern California, studying under the tutelage of Dr. Jo-Michael Scheibe.
Currently, Dr. Lee holds multiple positions, including as a faculty member at the San Diego Community College District, Director of Music Ministries at San Dieguito United Methodist Church, Music Director of the San Diego Festival Chorus, and serves as a Far South Representative for the California Choral Directors Association. She also co-founded Duo Nova, a piano ensemble based in San Diego.